My 2-year-old QNAP TS-473e died a few weeks, and unfortunately, it was just one month passed the 2-year warranty from QNAP, they told me to repair the QNAP, which its motherboard died, I have to pay around 400 bucks for repair fees. What?! I bought the NAS for 1000 bucks! …I am not gonna pay for that…So I was looking for some alternatives…yes, the new Asustor Nimbustor 2, AS5202T. It seems a good two-bay NAS for me.
I love my QNAP TS-473e, it provides tons of applications, and the tech support is great. However, one thing I hate is the CPU performance. When I bought it, I thought the AMD CPU is great and can handle some VMs inside QNAP, however, it turns out that no matter what OS I choose( Windows 7, Windows 10, Linux, ChromOS), the virtualization just painfully slow.
So what NAS do I really need?
4 Bay VS 2 Bay VS 1 Bay
I am not a heavy data user, so I don't really need those 4 bay or 8 bay NAS, just 1 or 2 bay NAS is enough. Just to add some caching options to make the speed faster,  so I think I would need a 2 bay NAS.
Another good thing about having 1-2 bay is that it saves your power consumption too 🙂
So here are the Top 3 2-bay NAS on the market: ( I ignored the cheaper price 2-bay NAS as I want a good 4k decoding and decent apps running speed for my NAS).
1. QNAP TS-253Be,  Intel Celeron Apollo Lake J3455 Quad-core CPU with Hardware Encryption
Here is the official link from QNAP:
https://www.qnap.com/en-us/product/ts-253be
2. Synology 218+
Here is the official link from Synology:
https://www.synology.com/en-global/products/DS218%2B
3. ASUSTOR NIMBUSTOR 2 (AS5202T)
Here is the official link for specifications from Asustor website:
https://www.asustor.com/en/product?p_id=61
Now let's see the differences among them:
CPU Performance
At the moment, I am not counting fast virtualization on any of those NAS CPUs (except Intel i5/i7), However, I still need a stronger one as the 4k Decoding can really help if you have a stronger CPU.
QNAP TS-253Be: Intel Celeron J3455
Synology 218+: Intel Celeron J3355
ASUSTOR NIMBUSTOR 2 (AS5202T): Intel Celeron J4005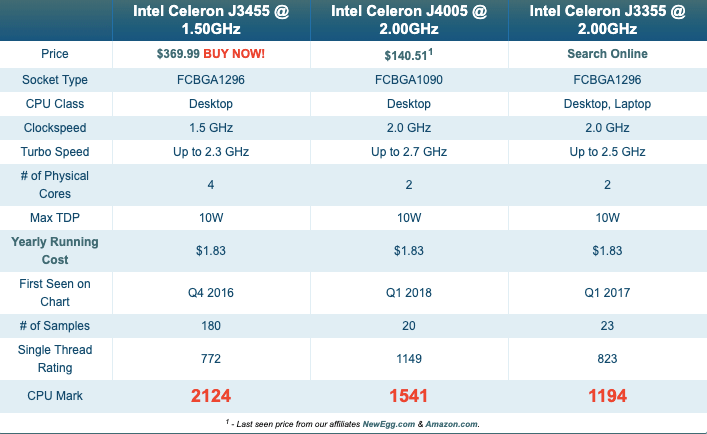 From CPU performance, QNAP > ASUSTOR > Synology, However, if you look at the single thread rating, Asustor AS5202T is the winner.
File Write & Read Speed
From the online reviews I read, QNAP 253Be and Synology 218+ have similar performance, it is around 100MB/s, however, if you have a 2.5 GbE switch, the write and read speed can be around 500MB/s!
So clearly Asustor AS5202T is the winner 🙂
NAS Applications
I have used QNAP and Synology for years now, and they both have a huge collection of applications, including the 3rd party community repository.
Asustor seems a little lack of applications, especially 3rd community repository.
But all of them have the built-in applications I need: iDrive Backup, SABnzbd, and SickRage.
Virtualization
All 3 NAS have virtualization station, so I can run a Windows or Linux inside my NAS. However one interesting I found out about the Asustor is that it is using "Virtual Box", which means it might be possible for me the run a Mac VM inside my NAS. Perfect, I love it 🙂
HDMI Output
Both QNAP 253Be and Asustor AS5202T has HDMI, however, QNAP 253Be only supports HDMI 1.4b, and Asustor supports HDMI 2.0
Price
They all have the same price range, around 300USD. However, if you get it from Amazon, it seems like you don't have to pay taxes on Asustor.
Well, I have been thinking about it for a few days now…and I think I will get an Asustor this time, just to give AS5202T a try and see how that goes!